The Premier Vinyl Wrap Resource in Harahan, Kenner, Metairie, New Orleans and Surrounding Areas!
Ad Graphics is a leading provider of vinyl wrap solutions in New Orleans and surrounding communities like Metairie, Kenner, and Harahan. When you think about vinyl wraps, vehicle wraps will probably come to mind first. Without question, car wraps and truck wraps are very effective, and we certainly provide vehicle wrap design and installation services. At the same time, there are other possibilities when it comes to vinyl wrap, and we have a great deal of expertise with all of them.
If you want to capture the attention of people who are passing by your business location, you may want to engage us to complete an outdoor vinyl wall wrap project. Identifying your business to people who are passing by is a huge benefit, but we take things to another level. Yes, we want your potential customers to know that you are there, but we also want them to come away with a very positive impression. The colorful, creative vinyl wraps that our design team can produce will be impossible to ignore, and we have extensive capabilities, so no job is too large for our company.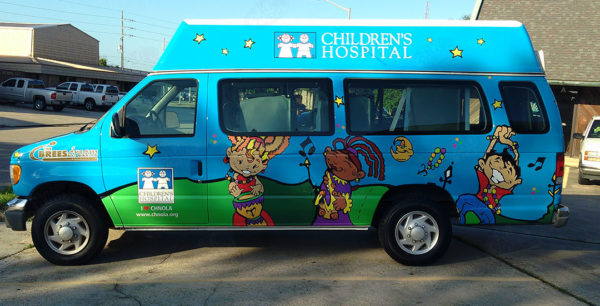 Vinyl wrap can also be used for indoor murals and wallpaper that can give your interior a crisp, modern look. Plus, when people are waiting or browsing, they will invariably be drawn to the advertising message that is being conveyed through the vinyl wrap medium. Plus, if you ever want to change the look or the message, the wrap can be easily and inexpensively removed and replaced.
The vinyl wrap solutions that we produce are very durable and long lasting, and we go the extra mile to keep our prices as low as possible. You get the best of both worlds when you work with Ad Graphics, and our location is easily accessible from anywhere in the greater New Orleans area. If you are ready to connect, you can send us a message through our contact page or give us a call at 504-733-1158.