Storefront Signs in Gretna, Harvey, Chalmette, Metairie, New Orleans & Surrounding Areas
If you are a business owner or decision maker in the greater New Orleans area, you should take the appearance of your storefront signs very seriously. They say that first impressions mean everything, and your storefront sign is going to be your calling card to the outside world. Most of your customers live or work in your general vicinity, so you have a golden opportunity to reach your desired demographic through your outdoor signage. You should certainly do everything possible to put your best foot forward, and if you engage our company to produce your storefront signs, this is exactly what you will do.
We have an in-house graphic design team that can help you come up with a concept if you do not have one already. There are many different possibilities with regard to the style, shape, materials and lettering. Our team members will provide you with personalized attention, and you will ultimately obtain the perfect storefront sign or signs for you and your business.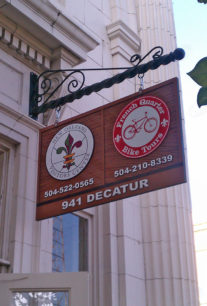 The quality of the work that we do is top notch because of the premium materials, the expertise of our staff members, and the high-tech nature of the equipment that we utilize. At the same time, we endeavor to help our neighbors in Metairie, Kenner, Harahan, and New Orleans stay on budget, so we provide value based pricing on our storefront signs.
Communication is key in our business, and we place an emphasis on the customer service that we provide every step of the way. If you have questions about our storefront signs, we would be more than glad to provide you with answers. You can reach one of our consultants right now if you call us at 504-733-1158, and you also have the option of sending us a message through the contact page on this website.