Magnetic Signs in New Orleans, Jefferson, Elmwood, Harahan & Surrounding Areas
If you have commercial vehicles out and about in Harahan, Metairie, Kenner, and New Orleans, magnetic signs can offset the cost of maintaining your fleet. How is this possible you may ask? The answer is that the increase in your business that will be generated by the advertising value of the magnetic signs will be considerable.
When you have attention getting magnetic signs on the sides of your vehicles, you are turning them into mobile billboards. If a person is sitting stopped at a red light, and your vehicle pulls up alongside of them, they are naturally going to be drawn to the advertising message on the magnetic sign. The same thing is true of passersby when your vehicle is parked, so you get extraordinary reach when you utilize magnetic signs for advertising purposes.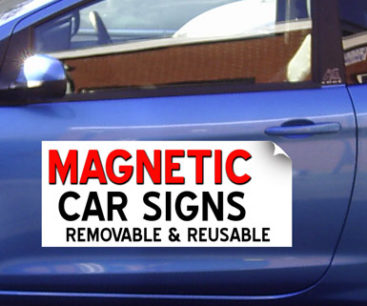 Studies have shown that outdoor advertising is a very powerful tool that is overlooked by far too many people. Magnetic signs on the sides of vehicles can be seen by thousands of people daily, and many businesses have multiple cars, trucks, or vans on the roadways. These ads influence people, and studies have shown that the vast majority of consumers will take notice of advertising on the side of a vehicle that pulls up alongside of them. In fact, 30 percent of people surveyed say that they visited a business within the last week because they were influenced by outdoor advertising.
We provide each of our clients with truly personalized attention, and the magnetic signs that we create for you will be custom crafted to suit your needs. Our signs are sturdy and durable, and our graphic capabilities allow us to produce eye-catching, high definition images and text. If are interested in magnetic signs, give us a call at 504-733-1158 and we will answer all your questions and arrange the next step if you decide to go forward.