Indoor and Outdoor Signs in Sidell, Gretna, Harvey, Chalmette & Surrounding Areas
Many New Orleans area businesses devote significant resources to advertising purchases, but many of the same individuals don't understand the power of outdoor signage. It has been estimated that over 80 percent of the people who are likely to patronize your business live within 5 miles of your location. The majority of them are going to pass by at some point in time. If you engage us to create outdoor signs that simply cannot be ignored, over time, your busine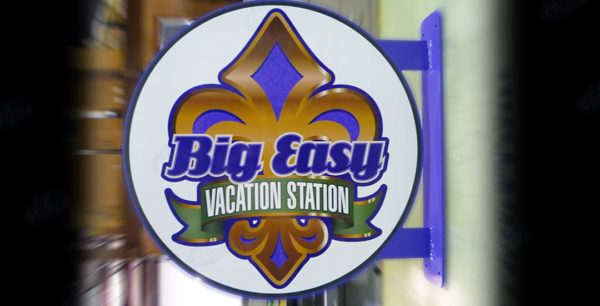 ss will be etched into the minds of the vast majority of your potential customers.
We offer a wide selection of outdoor signage, including wall signs, hanging signs, architectural signs, yards signs, monument signs, and more. Plus, in addition to the permanent outdoor signs that we can provide, you can also engage us to create temporary signs for sales, political campaigns, events, etc. Our creative team members work closely with our clients to create truly original, attention getting outdoor signs that convey powerful, compelling messages.
Indoor signage is also an area of specialization for our company. Once again, we offer many options, including dimensional signs, colorful backlit signs, and door, wall, and window signs. The signage that you have inside your place of business can be utilized to drive sales, but there are also practical applications, like indoor directional signs and ADA signs. Regardless of the nature of your business, we have the experience and expertise that it takes to provide you with top quality signage at a price that will not put a strain on your budget.
In addition to the signs that we produce for clients in New Orleans, Metairie, Harahan and Kenner, our service area includes Slidell, Gretna, Harvey, Chalmette, Jefferson, and Elmwood. If you would like to discuss any type of signage project with a knowledgeable member of our team, you can reach us by phone right now at 504-733-1158. You can also get in touch electronically through the contact page on this website.