Your Source for Banners in New Orleans, Metairie, Kenner, and Harahan, LA
As a full-service graphic design and digital printing resource, we produce banners of all types for our neighbors in New Orleans, Harahan, Kenner, and Metairie. If you have an idea in mind, our design team can bring it to life, but we can also provide creative assistance if you need it. The banners that we produce for our clients will definitely attract attention and get your message across if you are a local business decision maker.
Of course, banners are also utilized by other entities, like educational institutions, fraternities and sororities, government agencies, sports teams, service clubs, and even people who are organizing family reunions. If you need a single banner, we would be more than glad to help, but we also have th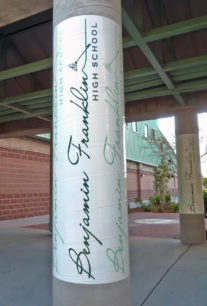 e ability to handle large orders of any size or scope.
Your Budget in Mind
We understand the fact that businesses work within tight budgets, because we are a small business in our own right. As locals serving other locals, we are committed to value based pricing, so you can get the banners that you need at affordable prices. Plus, in many instances, the banner orders that we receive are very time sensitive. When you engage Ad Graphics to produce your banners, you will receive your order right on schedule, and the quality will be readily apparent.
Customer communication is very important in the advertising and graphic design business. Tastes vary, so you have to work closely with your clients to make sure that you understand exactly what they're looking for. If you decide to work with us, you will find that you get focused, personalized attention from the first point of contact onward.
Our local banner design consultants are standing by right now to answer your questions, and you can reach one of them by phone at 504-733-1158. Of course, if you would rather get in touch over the Internet, you can send us a quick message through our contact page.